Apple's decision to remove the DVI port from the MacBook, MacBook Air and MacBook Pro in favor of Mini DisplayPort, and to offer Mini DisplayPort as the only video connector for the new 24-inch Cinema Display, has raised current compatibility concerns. This has a number of implications:-
The Mini DisplayPort specification includes HDCP copy protection, allowing DRM-enabled content providers, including the iTunes Store, to disable playback on any external displays that are not HDCP compliant.
Apple's Dual-Link DVI adapter is relatively large and expensive compared to past adapters, and many customers are reporting issues with all new adapters, rendering it difficult or impossible to connect to external displays.
Despite the fact that Mini DisplayPort and regular DisplayPort signals are identical, due to physical differences between the two connectors, without the use of adapter cables, Mini DP-equipped computers are incompatible with regular DP-equipped monitors and vice versa. Either scenario requires cables that can only be purchased from a third party, as Apple itself does not offer them.
The built-in Mini-DisplayPort cables on Apple's monitors are only 3 feet long, which is often not long enough to connect to a Mac Pro desktop under a desk. Apple does not provide a solution for this problem, but some third parties now offer Mini-DisplayPort extension cables.
While the DisplayPort specification is capable of supporting digital audio, the current MacBook and MacBook Pro range is unable to provide an audio signal through the Mini DisplayPort, and only does so over USB or the audio line out port instead. This can present a problem to users who intend to connect their computers to HDTVs using a Mini DisplayPort to HDMI adapter. To work around this issue, some third-party manufacturers have created an adapter that plugs into both the Mini DisplayPort (for video) and a USB port (for audio), and terminates with a single female HDMI connector, allowing both video and audio to be channeled over the one HDMI cable.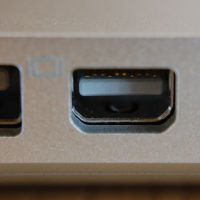 ---
---